It's been exactly one month since we announced our new brand, social platform, and long-term vision for Gamma. Since then, we've been hard at work ensuring we embody these principles of putting artists and users first.
Mid-May, we introduced new ways for artists to be featured on our homepage and new categories like Music, Photography, and Fine Art to ensure 1/1 collectibles receive the exposure they so deserve. We also have been working with independent artists across other blockchains—Tezos, Ethereum, Solana, and others—to onboard them to Bitcoin and Stacks. Our goal is to highlight these amazing artists while growing the community and diversifying the kinds of works you can discover on our platform. What's more, all of these artists will be launching their works today, May 27th, so you can explore everything at once.
You can check out our new Featured by Gamma category to see all of the works launching today. But, we wanted to give you even more context of the artists behind these creations too.
Without further ado, let's share a bit about each artist—let's all give them a warm welcome to the community!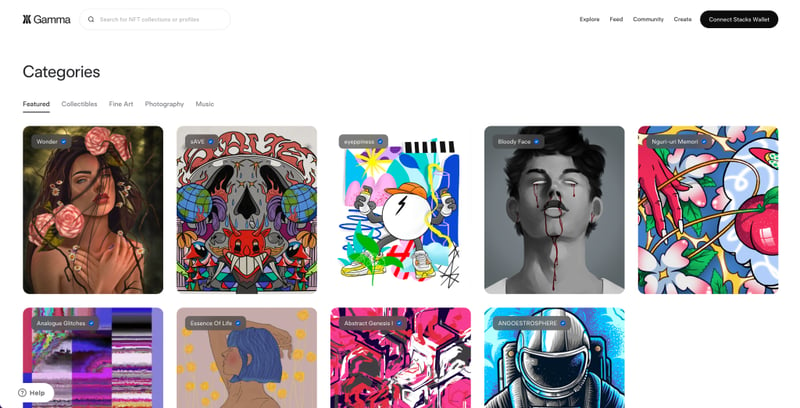 Julia – Mezkla: Wonder
I am Julia. A Brazilian 2D artist. Passionate about art and getting inspired by daily life and femininity. For me is always fun when people talk about searching for an art style. My art style is to runanway from reality while creating something beautiful that lives in my mind.
Swaner is a 1/1 Visual Artist from Indonesia with great skill in illustrations.
Full Stack Developer & Illustrator. Interested in Abstract Art, Psychedelic, and Creative Coding.
I am a self-taught artist and designer. creating is a never-ending affair. To capture the beauty of a certain moment is a passion that comes from within the spaces between my ribs. Expressing it through drawing, photography, and writing!
I am a visual artist who was born in Bandung-Indonesia 30 years ago. I began to be involved in the world of art starting from street art then into NFT's.
Hi, I am Obayd from Indonesia, I love to draw, and most of my drawing is about girls, dark things, and other things I cannot explain tha come from my mind.
Video Artist based in the UK. Currently using analogue art to create glitch art via several pieces of old style data bent equipment, including a handmade video mixer.
José Gasparian: saudade
José Gasparian is a Brazilian designer-photographer-artist based in San Francisco, CA. His works grab references from minimalism, nature and design. He's obsessed with music and circles; and also he is an Apple and Nintendo fan. NFTs opened the doors to him to express even further digital art that he has been doing for years now.
I'm Satria Yuwan, a visual artist based in Indonesia. I am very obsessed with all things surreal and fantasy–both refresh my mind in this boring world. My works are a kind of a diary that tells stories and experiences that I feel every day. I'm sure everyone has a unique story in their daily life, even in simple things. With my work, I offer another perspective to see the world through my imagination.
Angoes25 is an ordinary daddy and an Individual Creative digital illustrator based in Indonesia.
Wampastompa creates art that never leaves the computer, where he is free to play with the rough-edged squareness of loose pixels, each fighting to stay in place against an inorganic grid of dadaist exploits. His catalog feels based in kitsch, outsider art, naively rendered like children learning a new tool.