What is the whole point, the long term goal of being seen and heard, of being equals at work, at home, in life? The answer, to me, is quite simple: Equity. I dream of a world where standing out and speaking up isn't a pre-requisite to being heard. Where however we identify, we are equals. But to get there, steps must be taken, minds must be opened, and new ways must be learned. So how can we help achieve the goal of an equal and inclusive world?
At Gamma, we believe art is a powerful tool. And as builders in Web3, we try to push forward principles of decentralization and sovereignty—a true, equitable, peer-to-peer network and user-owned internet where everyone has a fair and just seat at the table. So with this Peer-to-Peer Community Collection, we invite artists to share their representation, past, present and future, here, there, anywhere, of gender equity. Submissions will be selected and curated by a panel of Stacks artists, who will each also contribute a piece to the collection. The completed collection will be minted next month, where 100% of the collection's mint proceeds will go to the International Women's Day Charity Alliance, to support their mission to raise awareness and move toward an equal world.
___
Meet the talented panel who contributed to and helped curate the Peer-to-Peer Gender Equity Collection down below.
Jessica Greenwalt is a Web3 strategist, UX researcher, multiple award-winning graphic designer, product designer, and digital artist. She's a Creative Director for Vayner3, where she develops Web3 strategies for the world's biggest brands, and the Co-Founder of Unum Game, a Stacks-based world-building game with an all-star team. She's also the founder of Pixelkeet, a research and design firm that helps crypto companies design, build, and launch products that change the world.

Jessica is one of Inc. Magazine's 10 Women to Watch in Tech, http://Tech.co's 50 Women in Tech Dominating Silicon Valley, Huffington Post's 6 Women Rocking Tech for Good, and Today's Leading Women's Power 50.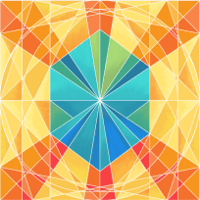 The Second — The Second is a visual representation of the interval of the second, creating a vesica piscis depicting the overlap in the perspectives of two separate beings. Two pillars appear, evoking The High Priestess of the tarot. A valuable stone formed from drawing connecting lines across the musical diagram.
I am an artist and designer. expressing myself through it all, drawing, design, photography, and writing!
I'm a creator by nature, aspiring for my passion and art to bring love, joy, and peace to other humans and to be the source of positive energy in their life.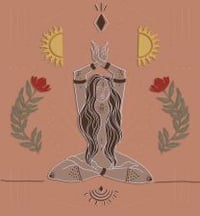 Unconfined — This piece tells the story of strength. Our strength lies in our differences not similarities. Let your self and others be free from being confined in society's boxes and let our differences unite us together in breaking prejudice.
Hello I'm 'bakurajeghata' visual artist from Jakarta, Indonesia. I have been in love with art since childhood, but didn't take it seriously. Recently I've just learned and explored it, because I think it's never too late to learn, right? So far, I've been interested on abstract art, which play with geometric and shapes.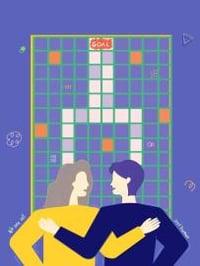 We Are All the Same – We are all the same, only human. Stay focused on achieving your goals
I'm Grace Hye, a South Korean artist based in Paris and lucky enough to make a living out of my artwork, which mainly consists of black ink and mix media paintings and decorative ceramic pieces that I exhibit at my gallery in Paris. I've got an academic background in digital art but I didn't follow that path until recently; I was involved with the fashion world for a few years, well I still am and maybe one day I will manage a NFT drop of a capsule collection. Right now I'm focusing in building an art lovers community around Stacks ecosystem and Bitcoin NFTs.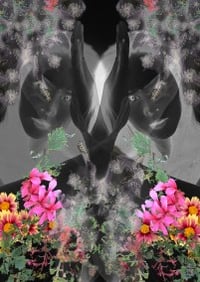 Breaking the bias inside of you – Strengthen your Innerverse; in order to break the bias, the first step will be in your head well, I was thinking about something on that line.
1039 year old extraterrestrial
Likes Mini-Disc players
Recycles Youth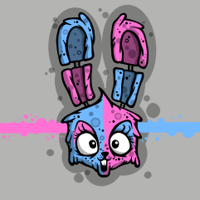 Equity in Equality – The difference between equity and equality is that equality is everyone gets the same thing and equity is everyone gets the things they deserve.
I am a 21 year old, female, digital artist from the U.K who focuses on creating highly stylised pieces of art. I am hoping to create more pieces in the future that explore social issues that I'm passionate about. I'm currently at university and am proud to make art that responds to what it means to be a young person in the current state of the world. i am also proud to be a female nft creator and am passionate about equality in the creative field. I have a lot of fun projects coming soon with a lot of fun people and I cant wait to be able to share them with everyone.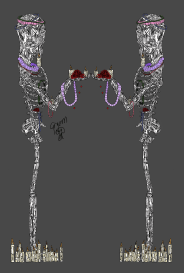 Deity – To pay respect to cultures who worship female and feminine deities
Grace is a multi-media artist and serial entrepreneur who built an internationally recognized startup brand and grew it to a community of over 200,000 entrepreneurs globally. Most recently, she was Venture Partner at a blockchain VC fund mentoring and investing in web3 founders, before deciding to become an artist full time. She launched CrashPunks, a 9K NFT collection secured on Bitcoin with Stacks, and she's currently bringing CrashPunks into the metaverse through 3D avatars, film, AR fashion, game integration, and world building.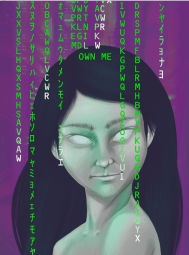 Decentralised-Girl – "Own Me" explores the notion of ownership, on multiple levels. The ownership of a human for profit; the ownership of human data for profit; the ownership of an NFT for profit. As Bitcoin pseudocode and Japanese characters spelling out "Satoshi Nakamoto" scroll down her face, the woman realizes she can choose not to be owned, and revokes her presence – depicting our right to owning our identity, data, and freedom. When she's no longer there, what do you own?
Illustrator from Venezuela. Creator of the Iso-Friends collection, artist behind the weekly BitToons cartoons, and currently designing the items for the Crashpunks RPG videogame. Specialty, isometric art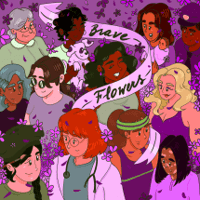 Brave Flowers – Brave Flowers is a piece inspired by how flowers even if they are plucked, the roots are still in the ground and continue to grow even regardless of the weather, they are so beautiful that they may seem weak, but the fact that they grow in any condition makes them incredibly strong. The woman is a flower, she can be a little underestimated just because she is a woman, but she is really strong and brave in the face of adversity. The piece has a purple color, which for me is a balanced color, which represents equality, it is not pink or blue, but a mixture of both, so it should not matter if you are a woman, everyone should be valued equally, only for the facts of being human.
FrenchieBoops is the digital artist behind the Stacculents NFT project. With a love for very round animals, neon rainbows, sparkly and shiny things, you'll get faint vibes of Lisa Frank and the ethereal plane in her work. From a day job in critical care veterinary nursing to creating digital BTC dragons, she brings imagination and passion to life.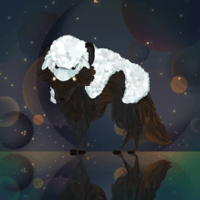 Wolf in Sheep's Clothing – We are wrapped in expectation. Some wear it as a shield, some wield it as a sword. We are limitless.
Who is Boozy? Is he an artist? Is he collector? No. The self proclaimed "jpeg connoisseur" is an alcoholic. Boozy leans into his passion for an aged tequila and finds the inspiration to produce mediocre art.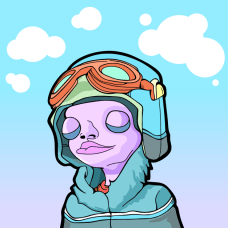 Solo Flight – Believe in anyone regardless of who they are
And a big congratulations to the following creators for having their pieces selected by the panel for this fantastic event: alexander.btc, longstreet.btc, EdNedFred, ayyr_2022.btc, arnofromearth.btc, carolevy.btc and naamaopozniak.eth. To check out the entire collection, head to Gamma.