For many creators, the voyage into web3 and NFTs is an exciting process, yet it can be daunting at times. All of a sudden you have a global audience at your fingertips. However, we have noticed a recurring question from creators. "I have created art, minted it, but what next? How can I engage and grow my audience?"
Here is a non-exhaustive list of some strategies we have noticed can help you to reach and engage with the web3 community, and get yourself, and your art out there.
Set up your Gamma profile
Your profile name is linked to your decentralised identity, which you can purchase at https://btc.us which is a really good way for your potential collectors to find you on Gamma.
Your profile picture on Gamma is one of the NFTs that you own. If you mint one of your own pieces, you can then use your own work as your profile picture to assist with creating your brand.
You can also place your links such as Twitter, Instagram etc on your profile page.
Your profile page will show the NFTs you collect, as well as have a tab showing all of the collections you have created. If you collaborate with other artists, you can also add them as an artist collaborator so collaborative works appear on both artists' created tabs. Therefore, your profile page is a good link to share in the relevant places.
Create a Twitter profile
Your pfp and banner should represent you or your artwork.
Include a succinct bio describing you and your art.
Include a link to your Gamma profile, which then can link to your website/portfolio, your created works, and other bios.
Have a pinned post which shows off your current drop/something you are proud of.
Post daily, show off your work (p.s. it's common to include your collection link, but as the second tweet in a thread).
Attend Twitter Spaces (maybe even start your own Twitter Space with other creator friends or some early collectors).
Like, RT and comment on other artists work that you like (supporting other creators can help garner support for you).
Thank your collectors on Twitter if you can.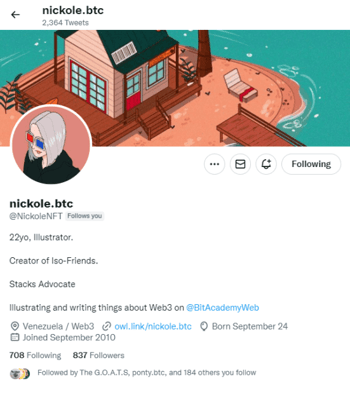 Create a Discord profile
Use your artwork as your pfp and use your artist name as your Discord handle.
Join the Gamma marketplace Discord and share information about you in the appropriate channels.
When in a Discord, get to know the server, the rules, the expectations, read the pinned posts, and post accordingly.
Collectors like to get to know you and the narrative behind your artwork. Tell a story in your promotional tweets in shill/promote channels. Try not to just drop links only.
Some creators may like to create their own Discord server. There are a number of good YouTube videos on how to do this. It can be a good way to engage with your community in a much more 1:1 way, and communicate about drops, your roadmap (if applicable), as well as using the Gamma Discord Bots to track sales, listings and offers for your work. Be mindful that running a Discord server takes ongoing work and effort to keep active and maintain your community – only proceed if you feel committed to the long-term in this area.
Again, if you join other artists' and/or projects' servers, and you post in their shill/promote channel, always try and provide more information to the collectors, not just the link.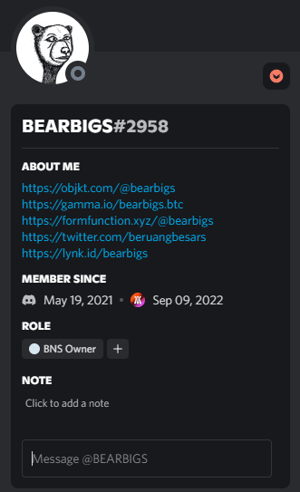 Instagram, Tik Tok and Reddit
Instagram, Tik Tok and Reddit are other platforms with big communities that can be worthwhile navigating in order to learn, and further your reach. Find interesting communities on Instagram and Tik Tok using the Explore page and via hashtags, and find relevant subreddits by searching Reddit for relevant topics on the type of work you're creating, or through ecosystem pages like r/Stacks.
What's next?
It is always important to be persistent and patient. Fewer, high quality communications are always better than many lower-quality posts – these could come across as "shilly" or "spammy" when they actually represent something much more meaningful.
Have fun, and always reach out to us if you need in our Discord, on Twitter and at support@gamma.io.